TrueStack Direct Connect is a VPN server made to easily and securely connect local Windows, Mac and Linux computers to AWS Windows Active Directory or Linux servers. No more site to site VPNs. Connect and manage computers wherever they're located.

TrueStack Direct Connect in Three Easy Steps:
Get Started for Free
---
How it works
First, set up your cloud AWS account and launch your TrueStack Direct Connect server.
Then create Installers for each Windows computer you want to connect. Route the computers to a Windows domain controller or file server in your AWS cloud.
Set up a new Window Active Directory domain on your cloud Windows server and add the connected computers to the domain.
Watch this video to view the different ways to create and install the TrueStack Direct Connect VPN client.
For Sysadmins and Managed Services Providers you can route clients to different Windows servers with different domains. You can create groups and manage Windows servers in your AWS account for multiple customers.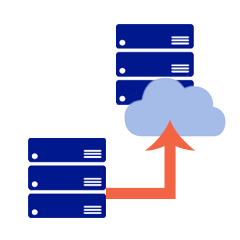 Your on premise server can be migrated to a private AWS or Azure Windows server seamlessly. This means your employees won't notice that the server is out of the closet. They'll be able to continue accessing their shared documents, software and printers as usual without disruption. A TrueStack specialists is available to help your IT achieve a Seamless Migration. Contact TrueStack Support to speak with a dedicated specialists who will help you plan your migration. Call 1 (619) 634-4235 or email [email protected].