Active Directory is embedded in our lives and will continue to be relevant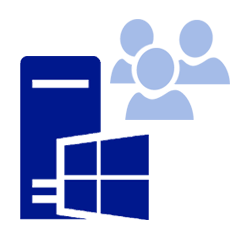 Have you heard someone say recently that Active Directory is going away? We don't think so.
Here's 5 reasons why it's here to stay:
Microsoft Active Directory Synchronization, which syncs O365 accounts with Active Directory is heavily used by I.T. for single-sign on. This means these organizations are more dependent on their AD domains and have a stronger requirement to maintain them.
I.T. still needs a tool to manage computers and the easiest and least expensive tool is using Group Policy through Active Directory. Microsoft has added the powerful PowerShell for scripting management of computers through Active Directory. Organizations often write their computer use policies based on the ability of group policy and PowerShell to enforce them. Because of this Active Directory is becoming more embedded not less.
The popular protocol LDAP is often used to sync Active Directory to various authentication services and devices. This is used for single sign-on so users can log on to sites and devices with their Active Directory credentials. Because LDAP is used by so many organizations, I.T. would be up in arms if they were required to leave Active Directory.
There's no great alternative to Active Directory. There are a myriad of databases used for user authentication but few databases that can be used for computer and device management that don't involve Active Directory.
Organizations who have killed their AD servers on the last cloud push have regretted it.  By dumping their AD servers they end up loosing functionality that can't be replaced and they eventually consider going back to AD.  They loose among other things:

management of shared printers
control of shared data and backups
management of Windows updates
group policies
an easy way to push out software
Are you ready to move back to Active Directory?
Use TrueStack Direct Connect to connect your company workstations to a Windows server in the AWS or Azure clouds.
TrueStack Direct Connect is a VPN management server made to connect Windows and Mac computers to Windows domain controllers and file servers in the AWS and Azure clouds.
TrueStack Direct Connect 10 connections is FREE.
Not sure if TrueStack Direct Connect is right for you?  Contact us with questions, [email protected] or call 1(619) 634-4235, PST Monday – Friday 8am – 6pm.
The future of Active Directory