How to connect your Windows computers to a Windows file server in the cloud.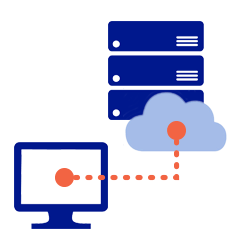 In the last few years it's become easy and inexpensive to pop up Windows servers in the cloud.  But how do you connect and manage your on premise Windows computers from that cloud Windows server?
The Standard way:
Set up a site to site VPN solution
Use a point to point VPN
Use a 3rd party VPN solution
The TrueStack Direct Connect way:
TrueStack Direct Connect is a VPN management virtual server that runs in your Amazon Web Services or Microsoft Azure accounts and gives your local computers direct connectivity to your Windows domain controllers and Windows file servers in your cloud account.
How is this better?
vs. site to site?  A site to site VPN is isolated to the LAN.  Which means your computers can only access the server when they're in the office.

TrueStack Direct Connect gives the end user access to their files anywhere they have internet access.

vs. point to point VPN? TrueStack Direct Connect authenticates computers with individual certificates instead of cumbersome user credentials.  It has a reliable always-on connection that connects the VPN as soon as the computer comes online.
vs. 3rd party VPN solutions? A 3rd party VPN solution creates a VPN route through third party servers.  This makes for a slower connection and longer path to the end-point.  TrueStack Direct Connect is a server in your cloud account which directly connects to your Windows servers in your cloud account.  The path is much shorter and the connection is much faster.  Also because it's in your account you have full management control over the server.
How much does it cost?
TrueStack Direct Connect cost $142 a month from the AWS or Azure marketplaces.  This low price allows you to connect up to 4096 computers and up to 253 servers.  TrueStack Direct Connect allows you to easily group and segregate your customer's access to different servers so you can manage multiple domains and customers accounts from one instance of TrueStack Direct Connect.
Can I try it out?
TrueStack Direct Connect has a free 30-day trial.  Follow our tutorial here to Try it!
Is it fast enough for my end users to access their documents on the cloud Windows server?
Yes. In general the end-user experience for navigating and opening documents is the same as an on premise server.  Saving documents takes 1 or 2 seconds longer depending on the size of the document.
Can I migrate my domain to the cloud?
Yes. You can use TrueStack Direct Connect to connect your on premise Windows server to your cloud Windows server and promote the cloud server to a domain controller then migrate your data and redirect your end user computers to the cloud domain controller.  This can be done with little disruption to your end users.  Here's a blog that gives a quick summary of the process: Migrate your on premise Domain Controller to the Cloud.
Do our end-users need to maintain passwords?
No. Your end-user's computers authenticate through a certificate that is unique to their computer.  There are no usernames and passwords to manage.
If a computer is lost or stolen can I immediately disconnect the access to our cloud Windows server?
Yes.  The TrueStack Direct Connect console allows you temporarily disable or delete individually connected computers.
Can I use group policies and Powershell to manage the computers?
Yes.  You can manage the computers and users using Active Directory and other tools the same way you do with an on premise domain controller.  You can ping and send commands or policies to the remote computers as long as they are connected to the internet.
TrueStack Direct Connect is a VPN management server made to connect Windows and Mac computers to Windows domain controllers and files servers in the AWS and Azure clouds.  For more information visit truestack.com
For TrueStack Direct Connect step-by-step tutorials visit our support page at truestack.com/support.
Want to take a Test Drive?  Email support@truestack.com with Subject: Test Drive.  You'll receive 48-hour access to a TrueStack Direct Connect VPN server and Windows 2012 R2 instance with a pre-configured domain controller with network shares.
Not sure if TrueStack Direct Connect is right for you?  Contact us with questions, info@truestack.com or call 1(619) 634-4235, PST Monday – Friday 8am – 6pm.
Connect Windows computers to Windows cloud servers