How to manage Active Directory on premise computers from multiple locations with AWS Windows Domain Controllers.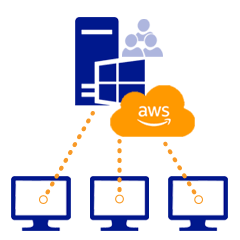 Today SysAdmins are confronted with the challenge of centrally managing Windows domain connected computers which can be located in multiple countries, cities and physical locations. Many SysAdmins prefer to use the familiar Windows server Active Directory tools to manage their users and devices. Some SysAdmins would prefer to use something else to manage their computers but they have inherited Windows networks that aren't easily migrated to other platforms.
TrueStack Direct Connect is a VPN Management server made to easily connect on premise Windows computers to Windows Active Directory Domain Controllers and File servers in the Amazon Web Services Cloud.
How it works:
Your Windows Domain Controller runs on an inexpensive and fast GP2 (solid state) instance in Amazon Web Services.
TrueStack Direct Connect is managed directly by you and runs in the same AWS account.
Your Windows devices are routed through the TrueStack Direct Connect VPN management server directly to your Windows Domain Controller in your AWS cloud.
You can use Group polices, Active Directory, Powershell and all of the Windows server tools you normally use to manage these devices.
Your users and devices can be located anywhere they have internet access.
You can migrate your on premise domain and servers to the AWS cloud using TrueStack Direct Connect.
The TrueStack Direct Connect console gives you individual control of each device. You can easily disable or delete a connected device as needed.
Your end-users have fast, secure access to their NTFS shares.
You can get up to 10 connections for FREE!
No Windows Client Access licenses are required for AWS Windows servers.
Is it really that simple?
It's really simple, especially if you have experience with Windows servers and domains. It's not as simple if this is all new to you. Either way read through our Tutorials at truestack.com/support and take a test run before you put it into production.
Not sure if TrueStack Direct Connect is right for you? Contact us with questions, [email protected] or call 1(619) 634-4235, PST Monday – Friday 8am – 5pm.
Manage Active Directory computers from multiple locations with AWS Windows servers