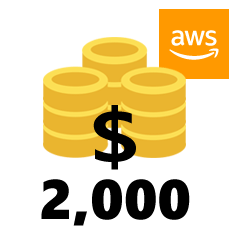 Use it to move to the cloud:
That old server in the closet keeps causing problems but your I.T. says it has to be replaced.  A better option is to move it to the cloud and use your $2000 a year free Amazon Web Services credits from Techsoup.
First move your applications:
If you have client/server applications that you would like to move off of old servers to the cloud,  TrueStack offers RemoteApp streaming of client/server applications like Quickbooks, Lacerte, Sage, Juris, Giftworks, FileMaker Pro or any SQL Express applications.  
Nonprofits can get this service for 3 – 5 users for $100 a year or less if they qualify for the $2000 AWS credit through Techsoup which will be applied toward their Hosted Services Account with TrueStack.
Then move your server to the cloud:
Techsoup charges an admin fee of $175 to get the $2000 Amazon Web Services credits.  If you're a boost member the credits cost $80.
http://www.techsoup.org/products/amazon-web-services-credits-for-nonprofits–G-50197–
Then contact TrueStack so we can help you move your server to the cloud.  We can apply the $2000 AWS credit to your account for server hosting with TrueStack.
Hosting includes:
Server migration
Nightly Backup with up to 10 recovery points
Business hours support
Anywhere access
Get rid of that old server and free up your closet space while using your AWS $2000 a year free credits! 
To obtain a quote contact us at [email protected] or call 1(619) 634-4235, PST Monday – Friday 8am – 6pm.
Non Profits: What can you do with the $2000 Amazon Web Services Credit?