Need an easy to use VPN to connect your local computers to your AWS Servers?
TrueStack Direct Connect is free for 10 Connections.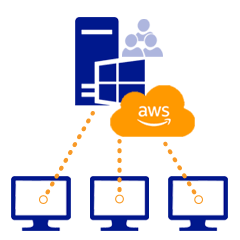 TrueStack Direct Connect is a fast, private VPN server in your AWS account
Easily and securely add direct connections from local Windows, Mac and Linux computers to your AWS Windows or Linux Servers
Manage all your connected devices in the TrueStack Direct Connect Console
Add, delete or temporarily disable connections as needed
Group your computers by location or company
Give computers access to specific AWS servers or groups of servers within your security group
Auto-connect wherever your devices have internet
Use it to host Microsoft Active Directory and manage locally connected computers
Individual certificate based connections, no usernames and passwords required!
For more connections view our pricing page here.