The Solution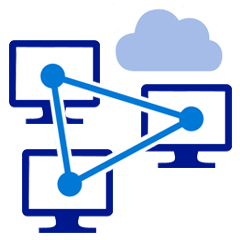 TrueStack Direct Connect is the only solution that allows you to move your Windows server to the cloud and then easily access the server from any internet connected computer.
Here's why:
Problem:
Businesses world-wide have on-premise Windows servers.  These on-premise servers often double as Windows Active Directory domain controllers and file servers.  These on-prem servers are prone to failure and difficult to upgrade.  Also they can only be accessed on-prem through the Local Area Network.  This means that an offsite laptop or PC can't access the server or their shared files.  Many companies use work-arounds by offering a remote access solution like Gotomypc or Sonicwall SSLVPN so home and remote users can remotely access their on-prem PC.  For users with company owned laptops this requires IT to maintain 2 computers for one user and maintain the work-around solution.  Or they just tell the laptop user that they have to be in the office to access company files.
Solution with new Problem:
Move them to the datacenter.  Problem: datacenter space and bandwidth is expensive and Windows domain controllers still require direct access by the computers they control.  This leaves a few options.  Most IT set up some form of site-to-site VPN.  This can increase your cost in on-prem network equipment and internet bandwidth.  Also the end user still has to be in the office to access their files or use a remote access solution.
Solution with new problem:
Move them to the cloud – AWS, Azure, Rackspace, Google etc.  Problem:   The computers that are managed by these servers still need direct connectivity to these cloud based Windows servers.  All of these companies have various site-to-site VPN solutions.  With these solutions the computers still need to be in the office for server access, so users still need a remote access solution and IT still needs to maintain the remote access solution.  Also on-prem network equipment and possibly more internet bandwidth may be required, which further increases costs.  There are cloud alternatives like, Gsuite, O365 and SharePoint but these solutions are often disruptive to the end-user and cost more money as you add more users.
The TrueStack Direct Connect Solution:
TrueStack Direct Connect is a VPN management server that makes it easy for IT to connect devices directly to Windows servers in the AWS or Azure clouds.  This solves all of these problems.
The server is no longer on-prem.  It's in the cloud.
New resources, like CPU, memory and storage can be easily added to the cloud Windows server and it's easy to migrate the cloud Windows server to a new server operating system.
The computers are connected directly to these servers instead of through a site-to-site VPN, bypassing the possible requirement for new network equipment.
New Advantage: Free for 10 Connections or Unlimited Connections for $0.19 per hour. Most software companies offer per user fees and then add on support and upgrade fees. TrueStack offers unlimited connections, which includes all updates and support for one flat hourly fee. Plus you won't be charged when your cloud TrueStack Direct Connect server is turned off. With TrueStack Direct Connect your business can create unlimited VPN connections and route on premise computers located in multiple locations to different Windows Active Directory services in your cloud account.
New Advantage: Users can access their files from anywhere they have internet without a remote access solution and IT can control and maintain these computers wherever they are.
New Advantage: IT doesn't need to install a new Windows domain controller when they open a new office.  The computers in the new office only need to be connected to the cloud Windows server through TrueStack Direct Connect to access the Windows server.  For most companies a standard cable internet is sufficient.  We recommend 50 – 100mbps down for offices with 20 – 30 computers.
New Advantage: TrueStack Direct Connect works well over wireless.
New Advantage: The TrueStack Direct Connect VPN connects before the user logs on.
New Advantage: Microsoft Client Access Licenses are bundled in AWS and Azure cloud servers, saving you money on volume licenses.
New Advantage: IT now has an additional layer of control through TrueStack Direct Connect.  They can disable/enable and delete VPN connected computers as needed.  If a user disappears with a company laptop IT can disable their connection and the domain connected computer won't have any access to the server.  If the laptop re-appears, they can enable the connection and the computer is back online.  Also TrueStack Direct Connect is easy to install and doesn't require the users to maintain another password because it's certificate based.
Can I try it out?
TrueStack Direct Connect 10 connections is FREE.
Get Started for Free
is right for you?  Contact us with questions,
[email protected]
or call 1(619) 634-4235, PST Monday – Friday 8am – 6pm.
Moving your on-prem Windows domain controllers to the cloud – The Solution.